Partial Knee Replacement in Burbank, Los Angeles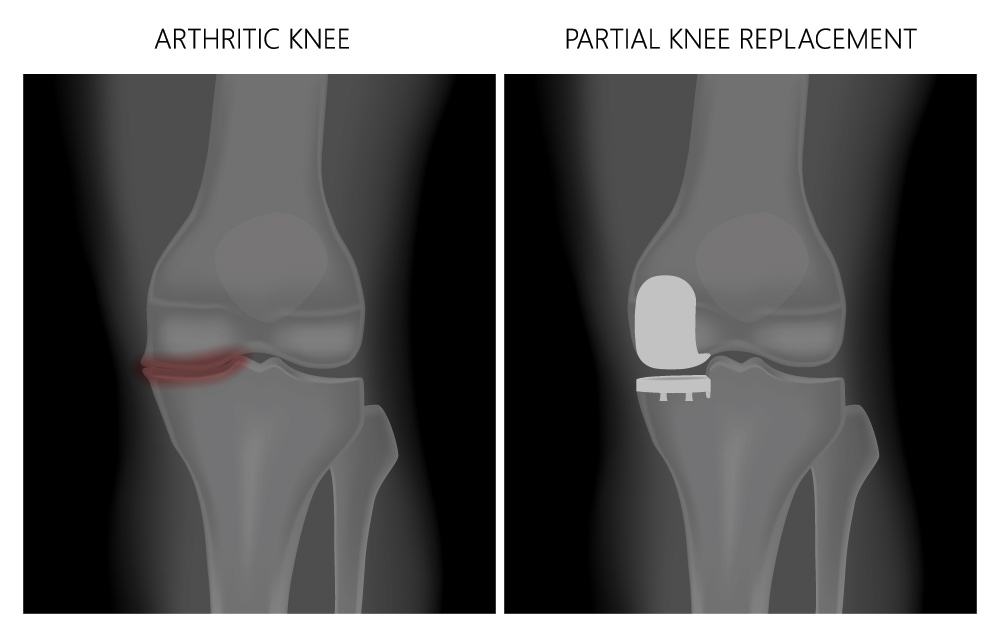 What is a Partial Knee Replacement?
Partial knee replacement, also referred to as a uni-compartmental knee arthroplasty, is a surgical procedure to resurface only part of the knee affected by pain, deformity and arthritis. At Minimally Invasive Joint Replacement Institute, we create a personalized approach based on our patient's anatomy and diagnosis in anticipation for an outpatient same day surgery. We use the most innovative and precise technology to get the most desirable outcome with the quickest recovery by sparing ligaments, tendons and muscle. Gone are the days when this procedure was done for older patients; it is often done for active young individuals as their recovery is painless and quick with our advanced, innovative and minimally invasive techniques.
What is a Partial Knee Replacement made out of?
Ceramic, titanium and highly cross linked polyethylene components are utilized to resurface the knee after the arthritis is completely removed.
Who May Need the Partial Knee Replacement?
People with knee pain solely either on the medial or lateral side of the knee may be a candidate for a partial knee replacement. "Medial" is considered the inner compartment of the joint close to the opposite knee. "Lateral" is the outside compartment far away from the opposite knee. Partial knee replacement is indicated for patients with damaged knee joints caused by trauma, arthritis, and other destructive diseases specific to only one compartment of the knee. Irrespective of what caused the damaged joint, the increase in pain, stiffness and decrease in daily activities are reasons one may look into having a Partial Knee Replacement with us to improve their quality of life and return to an active and healthy lifestyle much quicker than the traditional knee replacement.
The Partial Knee Replacement Procedure
At Minimally Invasive Joint Replacement Institute, we use a spinal anesthesia and local nerve blocks for the duration of the procedure without the need of General Anesthesia. Each patient obtains a detailed pre-operative plan as well as robotic assistance which minimizes operative time and increases precision of the procedure without cutting of native ligaments, muscles or tendons. Typically, patients will get up and walk within 30 minutes after their procedure in the recovery unit with the help of nurses and physical therapy. Patient's usually will then leave the facility within 90 minutes to begin their recovery period from home. We'll be with you every step of the way!
Contact Us Today!
Contact us today at Minimally Invasive Joint Replacement Institute to schedule an appointment for a partial knee replacement. Let us tell you if you're a candidate for a Partial Knee Replacement. Dr. Eli Ahdoot and our specialists are waiting to share their knowledge and offer the right treatment plan for you. We serve patients in Burbank, Los Angeles and welcome patients of other areas.